As
Amanda
pointed out yesterday, I have been at my new job for one full week. I have a more in-depth post I'm working on along those lines, but for now just know that I think this job is going to be worth the 7 months of unemployment. I met with my first student today and prepped for an appointment tomorrow afternoon. I'm really excited.
But for now, let's recap my most recent projects.
Aaron's quilt was a resounding success. It was a much easier (and much faster!) process than
Halle's quilt
, and Aaron can't stop gushing about it, which is gratifying and fun.
We also made a gingerbread house again this year, except this one had the added benefit of being pre-assembled.
And here are pictures of Chloe's History Fair project. Her group won second place for the fifth grade and is going to Regionals. I played a sizable role in assisting with the design and execution of the board, so as the project was progressing, I kept half-joking that I hoped I'd get a good grade. I did. =) (It should be noted that Halle's group won first for the sixth grade AND the school and is also going to Regionals, but I can't take any credit for that, except perhaps for passing on good genes.)
And finally, info on my upcoming projects! I have an office now, and so that means I also get to decorate it. I spent my first night after work rummaging through my house looking for books and knick-knacks to put on my bookshelves. I took an entire box of stuff, but it only filled about three shelves (three more needed). This is something I will work on intermittently. One of the things I've decided I want to do is hit up the used book store for some good, hardcover children's books.
But another thing I need is artwork. I wavered on whether to go black-and-white or color, and if color, which colors, and whether to do floral or landscape, or photography or art, and on and on. I finally decided that I didn't want anything that I would put in my house. If I would put it in my house, then I should. I want my office to be something different. The office is also already pretty neutral, so I opted for color--lots of it. I also noticed myself gravitating toward more abstract artwork, but couldn't find anything I just loved that was affordable.
I've been visiting
20x200.com
pretty frequently and have loved several of their pieces. The prices are okay, but I can't always find a set of things I like (and I definitely need at least 2 decent-sized pieces for my office). There was a
set of artwork
that I really liked, but I couldn't get them in the $20 size. And then after looking at them I thought, Hey, I can make that!
I think my end versions may have fewer word strips and more color strips, but as I don't really have my word strips yet, I really don't know what I'm talking about. I thought of getting some pretty scrapbook paper (perhaps using some of the scraps I have), but at the suggestion of a friend, I went with the much more pocket-friendly method of cutting up magazine covers and pages. Real Simple to the rescue! I did look for some scrapbook paper with writing on it--found nothing--so I may visit the used bookstore for a cheap book of quotes or poetry that I can slice up. The problem is that I want it to have pretty and varied fonts, so I'll just see what I can find.
The other (and really, first) source of inspiration was a
lampshade from Anthropologie
. Pioneer Woman was having a gift card giveaway the other day, so I started perusing the site. Oh my. Such cute stuff, but so pricey! But after looking at this lampshade I thought, Hey, I can make that!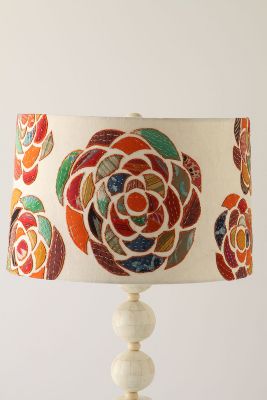 It's just scraps of fabric cut and then edged and slapped on a shade. After much looking and struggling and searching and calculating, I decided to go ahead and buy some fabric I originally found on
fabric.com
. I then found it on amazon, and found it again (cheaper) at an
etsy shop
.
Pack 1: Moda "Just Wing It"
Pack 2: Moda "Fresh Flowers"
I could have saved some money by buying some (less cute) fabric at JoAnn, but even if I'd gotten 50% off, I would only have saved $7. It was definitely worth it to pay a little more, get fabric I LOVE, and get a lot more of it. I can use leftover scraps for Chloe's quilt (which project is probably at least a year away).
So there you have it! No writing lately (although I do have a few good ideas after a good conversation with my
writing buddy
), but my need for creative outlet is definitively being met.